Paw Print Vets is a family-owned and -operated, small-animal clinic located in Mickleover, Derbyshire. Opened in July 2020 and led by Dr. Gemma Montgomery, MRCVS, the practice navigated the pandemic and quickly built a loyal following, backed by Provet Cloud's client-friendly suite of automation tools.


"As soon as I first encountered Provet Cloud, I knew it was the system we would be taking on."

After more than a decade working in veterinary medicine, striving to be the best general-practice, small-animal veterinarian she could be, Gemma Montgomery, MRCVS, determined it was time to apply those lessons and experiences to starting her own practice.
The idea of being an independent veterinarian intrigued her. "I wanted to be more in control of the level of service we're providing – to be more personalized," Gemma says.
She knew that prioritizing evidence-based care over money-driven results was better for building trust and loyalty in the community.
That eagerness met harsh reality – Gemma's hopes of opening Paw Print Vets in early 2020 were dashed as the Covid crisis quickly unfolded.
"A cloud-based software meant I could be in lockdown and still manage my business."
Despite delaying the opening until July 2020, Gemma didn't have to put preparations on hold. She was able to use the time to set up and customize operations in her practice management software – right from home.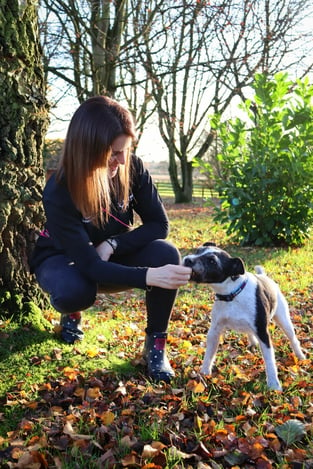 Provet Cloud impressed her the first time she learned about it. Having worked with server-based systems in the past, Gemma immediately recognized the benefit of a system that is truly online – one that doesn't require her "to be tied to the particular place where the servers are."
Since opening, that flexibility – "the fact that you can use it how you want to use it, when you want to use it" – has enabled even greater visibility of the clinic's day-to-day caseload.
Although she never expects her staff to work out of hours, Gemma says, "some of them like to know what's happening the next day, and they can look at the list of appointments from home and generally have more control over their schedule."
"No other software I've used quite compares to Provet Cloud."
Even after two years of running her clinic with Provet Cloud, Gemma and her team continue to be impressed with its tools. She laughs, "Sometimes my staff think it's too clever."
Key among the features are Provet Cloud's prescription refill system, enabling Gemma to program and automate how many refills a patient needs.
Email reminders have been a hit with clients, she says. "To be able to send a confirmation of appointment time with forms to complete beforehand – and the fact that it all attaches to the patient's history – has just been so helpful."
The staff have also made smart use of Provet Cloud's messaging templates to send out vaccination reminders, which clients appreciate and have come to rely on.
Gemma is still uncovering layers of functionality within Provet Cloud that can help her streamline tasks, add efficiency, and eliminate waste. "Eventually," she says, "we want to go totally paperless in our practice."
"Provet Cloud helps us appear more professional and cohesive."
It didn't take long for Paw Print Vets to build a strong client base in the community. Gemma believes their success is owed in large part to the consistent level of service they've been able to provide.
"We strive to maintain a consistent feeling that you know what you're going to get when you visit our practice," she says. "Our clients tell us they can feel the difference."
Now as Gemma eyes expansion, she knows Provet Cloud's key automation tools will help her and her staff preserve that "feeling" – deepening their connection to the community and providing as pleasant an experience as possible to pet owners and their pets.