Practical Guide from Provet Cloud
Switching practice management software is never going to be an easy decision, but many factors can lead you to the conclusion it's time for a change. As the veterinary profession evolves, you may find that your current system hasn't kept pace with the changes. Perhaps the Covid pandemic has accelerated the need for change? Maybe you are contemplating moving to the cloud? With so many solutions to choose from, how do you begin your search? What qualities should you be looking for? What questions should you be asking?
Our new guide answers some of the big questions we hear most frequently:
1. Should I choose server-based or cloud-based software?
2. What tasks can I automate with veterinary software?
3. What integrations are available for veterinary software?
4. Can I configure the veterinary software to my practice's needs?
5. What implementation and support does the veterinary software offer?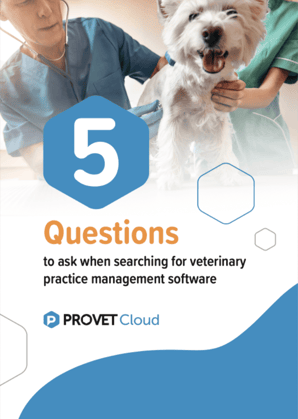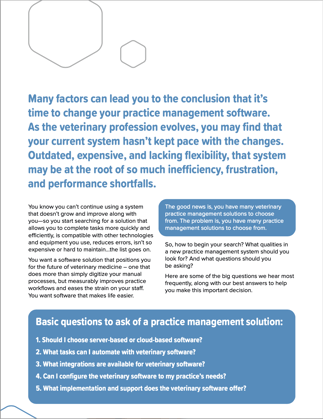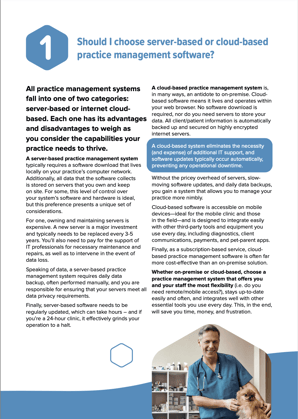 "The key thing with Provet Cloud is that they bothered to learn how I do business. They stood out because they listened to me. They put in the work."
Dr. Tom Walsh, PrimePet Rehabilitation Therapy. To read a case study on PrimePet Rehabilitation and how Provet Cloud gave the practice the tools it needed, click here.
Why Provet Cloud?
Spend more time practising and less time managing with integrations and functionality to improve practice efficiency and help you better connect with your clients.
Secure & compliant
First class customer service
Highly configurable
Customer communications
Bi-directional integrations
Reporting & dashboards
Client app
Referral portal
Online booking
Client reminders
Payment integrations
Inventory management
Diagnostic lab integrations
Digital whiteboard
Telemedicine
Provet Cloud is trusted by veterinary professionals around the world.