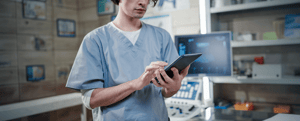 Referral portal
Veterinary referrals made easy
Provet Cloud's new referral portal takes the pain out of referrals, seamlessly connecting referring vets with specialist referral centres.
Securely share notes, images, and results at the click of a button to simplify and streamline communications between patient, referrer, and referral centre.
Eliminate manual, repetitive tasks throughout the referral process, from submission right through to discharge.
Build trust and collaboration with referring vets.
Ensure patients are seen, diagnosed and treated as efficiently as possible.
Go paperlight with automated email communications and notifications.
Stress-free referrals, easy onboarding, quick to learn, simple to use – find out more!
About the Referral Portal
The referral portal is a built-in extension of Provet Cloud, so there's no need for any third-party integrations to streamline the entire referral management process. Define your own departments, referring clinics and referral types, build your own forms, add your own logo and easily keep track of each referral status. And as a cloud-based solution, enjoy 24/7 access with world-class security. Watch a short video to see how the pieces come together.