What's New - December 2020
A new version of Provet Cloud will be released on Wednesday 16th of December 2020. We have developed new features, implemented improvements on existing features and fixed bugs.
New Features
Patient history
In this release, the patient history has been moved directly onto the patient page with it's own unique patient history tab. This improvement allows users to quickly access a patient history without any additional prompts or loading delays. All patient history icons and links inside Provet Cloud will remain intact and simply redirect the user to the history tab on the patient page. As previously available, users can still utilize filters to refine shown patient records, as well as print or email records. There is also an added search function which makes it even easier to locate the records your are searching for in a patient history.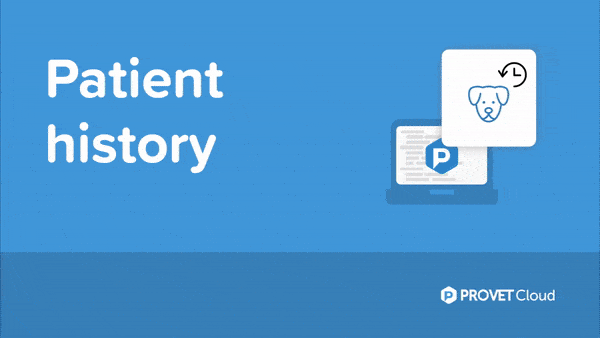 Product sales history
We previously introduced the product sales history to the patient page. It allows users to quickly review all the medications, foods and items that have been sold, administered, dispensed, or prescribed to that patient. In this release, we will add the ability to select a single item or multiple items from the product sales history list, and transfer them quickly and easily to a counter sale for invoicing. We have also added a "usage type" column to the sales history datatable.
And most excitingly, we have transferred the repeat medicine functions into the functionality offered by the product sales history. This means that users can easily select a medicine prescription and refill or renew the prescription whether for food, medicine, or supplies, directly from the product sales history module with a few clicks.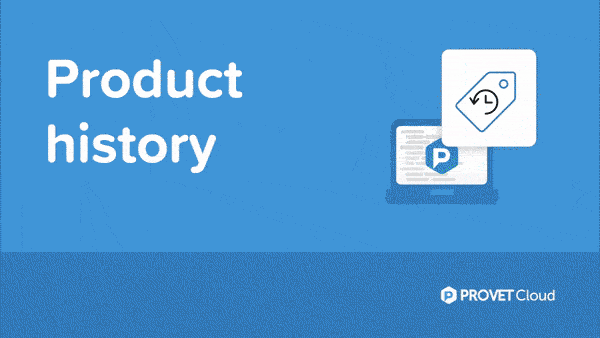 Improvements
Responsible person setting change
We have created a few new settings that allow clinic management to define the workflow around consultation and adding treatment items. With these settings, the consultation will always have the correct veterinarian selected as the responsible person and any item will be always added by the person who is permitted to do so.
New setting: Enable suggesting the current user as the supervising veterinarian for consultation
When enabled, a prompt is shown when a veterinarian is viewing a consultation that is not assigned to them, confirming if they would like to be selected as the supervising veterinarian for the consultation.
New setting: Enable mandatory supervising veterinarian for consultations
When enabled, a veterinarian needs to be manually defined when admitting an appointment that has been previously assigned to a virtual user.
New setting: Default responsible person for consultation items
With this setting, clinic administrators can define which user roles can add specific treatment item types during a consultation. For example, management can define permissions so that support staff can only add food and supply items, and all medicines items are restricted to veterinarian roles only.
End of day report changes
Users will be able to select the payment methods that are included on the end of day report in detail
We have added a new setting "in end of day" for payment methods
Users are able to decide which payment methods they want to include on the end of day report
Enabled by default
When enabled the payment method is included on the end of day reports
We have added "total sum" to the end of day report details. It will be shown on the user interface display and all print copies of the report
Possibility to revise journal entries
We have added a new user group permission. "Can always add / edit discharge instructions and clinical notes after consultation has been finalized". Users belonging to a group with that permission enabled or users belonging to the group 'Administrators' will always be able to add or edit clinical notes and discharge instructions even if the normal editing period has ended.
When editing consultation text notes with the permission enabled, the editing user will be prompted to give a reason for editing before the changes are saved. The edit reason will be shown in the revision log entries for the text notes, on the consultation page and also in the patient history.
From previous releases
Inventory application
We released an "inventory management" section as a part of our Provet Cloud mobile application. This allows users to easily scan the items barcode and check the inventory statuses. It also allows users to map scanned barcodes to items in the clinic's inventory in Provet Cloud. Once the item is scanned, users can easily add/remove stock, or set inventory levels - a really simple way of doing your monthly inventory checks!
Item template setting changes
A new setting that allows users to determine if nested item templates should be opened or closed by default when using the templates during a consultation in the Item templates modal dialogue.
Self check-in
We launched the self check-in feature in November. It's a great feature that gives clients the ability to check themselves in and indicate they have arrived to their appointment. Learn more about the feature by watching this video: https://www.youtube.com/watch?v=Ch7q4WT2iZc
If you have any questions or would like to know more about this release, please contact us. We are happy to answer all questions.