A new version of Provet Cloud will be released on Wednesday 27th of January 2021. We have developed new features, implemented improvements on existing features and fixed bugs.
New Features
Credit note wizard
We have significantly improved our credit note usability within Provet Cloud by introducing a wizard guided type of workflow. It will assist users through various workflows by offering simple options that the user can select from. Thanks to this new development, users will easily be able to perform refunds or invoice adjustments with just a few clicks.
Instructions on setting up the feature can be found in our help center: https://support.provet.cloud/hc/en-gb/articles/360012131138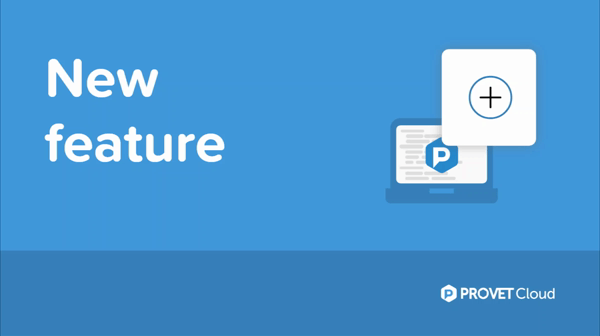 PDF forms
Provet Cloud now supports adding and creating editable PDF's. This new functionality will allow users to use PDF forms similarly to current Word forms - as patient, client, consultation, discharge note or patient referral feedback forms. Users can upload a PDF form that has mapping fields created with an appropriate application.

Instructions on setting up the feature can be found in our help center: https://support.provet.cloud/hc/en-gb/articles/360016554538-Setting-Up-PDF-Forms
Improvements
Default appointments

Users can now assign default appointments to a shift type. Those appointments will then be automatically added to the calendar when the shift type is scheduled. This feature can be used to schedule for example a recurring lunch break, weekly meeting or some other appointment block that will repeat routinely.

End of day report - More accounting data for end of day reports

Users can define which payment methods are shown on the end of day report. There will also be a "print balance sheet" option on the report which will show the chart of accounts.

Patient consultation history shows brief mouseover for patient history

The consultation history datatable in the patient page will show an info-tooltip in the reason column when the consultation has medicines or laboratory tests. The tooltip will show consultation date, reason, supervising veterinarian, diagnosis, medicines (last 5) and laboratory tests (last 10).

Fix on vaccination process

The expiration date of an administered vaccine will be added automatically when adding vaccinations to a consultation via item templates or linked items. The expiration date will only be added if the vaccine has a suitable effect group for the patient's age. Appropriately defining item profile settings will be important to ensure automatic entered expiry dates are accurate and correct. The expiration date of the administered vaccine will then automatically be visible within the Vaccination History table on the patient page.

Usability changes to Diagnostic Referrals

We have added a new field "responsible radiologist" for diagnostic imaging referrals. The radiologist can be assigned on the referral page or in the diagnostic imaging referral dashboard.
We have added a revision log for laboratory remarks within laboratory referrals as well as within diagnostic imaging referrals.
If you have any questions or would like to know more about this release, please contact us. We are happy to answer all questions.