What's New - October 2020
A new version of Provet Cloud will be released on Wednesday 21st of October 2020. We have developed new features, implemented improvements on existing features and fixed bugs.
New Features
Consolidation of the patient medical history to the patient page
We are consolidating the patient medical history to the patient page so our users can view all patient information in one place, with one click. In the first phase of this development, we are adding 2 new sections:
Product Sales History: allows users to quickly view all the medications, foods and items that have been sold, administered, dispensed or prescribed to the patient.
Vaccination history: allows users to view and manually update a patient's vaccination specific history in one area.

In the client and patient pages, the counter sales history datatable will now be transformed into the Product sales history datatable. The datatable shows all medicine, food and supply sales. New filters have been added for easier item history review which include: item type, sales type, filter duplicates and search bar. In the client sales history datatable there is now a patient column.
Alternative pricing feature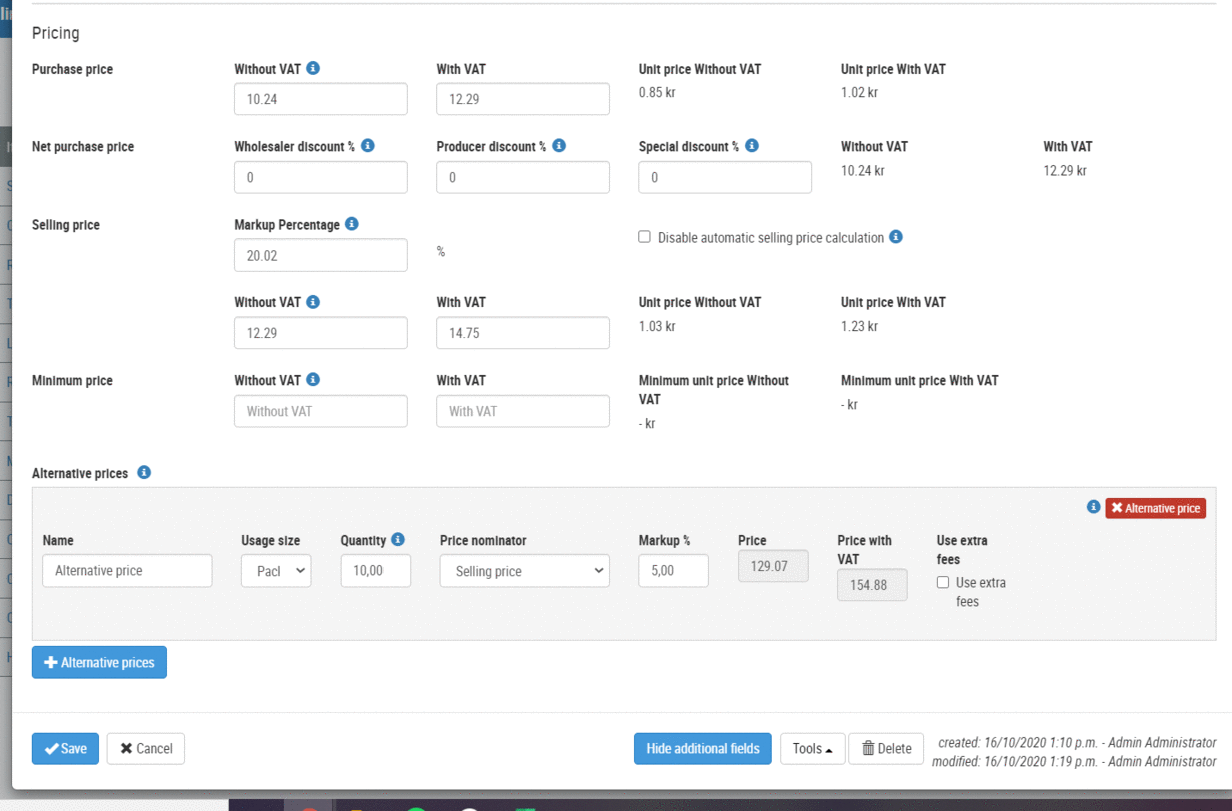 In the last release we launched the alternative pricing feature. It allows users to define multiple alternative pricing schemes for items in Provet Cloud. The feature can be used to define different pricing options for specific selling quantities. The alternative pricing function is available in consultation and counter sales. In this release the alternative pricing feature will be extended also to estimates.
An example of using alternative pricing: You are selling dog treats, which arrives in a package of 5 bags. It is thus possible to sell these in units, or in a package of 5 units. However, you may wish to define other default quantities, for example when selling these to charities. The charities may buy these in boxes, which contain 20 packages of dog treats. You can define an alternative price for that sale amount as well.
Integration with Boule devices
We have developed an integration between Provet Cloud and Boule devices BM850, H400, C200. You can find further information about the devices here.
This allows sending laboratory results from the Boule devices to Provet Cloud. This integration helps veterinary clinics to avoid manual input of the results to the veterinary practice management system when data is transferred automatically.
Improvements
Default administration method improvements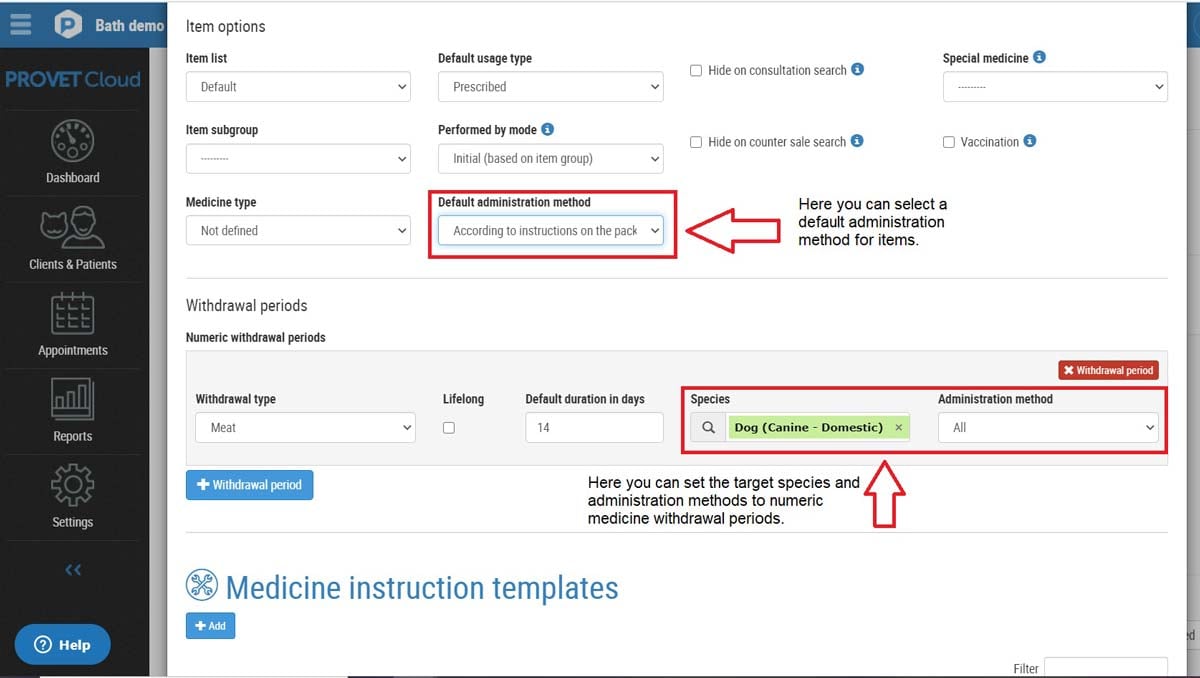 Items, such as medicines, are often administered using the same administration method each time. Instead of having to select the administration method each time, you can now select a default method. When a default administration method has been selected for a medicine and the administration method selection has been enabled from the department settings to be usable in consultations, the default method will automatically be selected when a new medicine item is being added to a consultation.
Users can also set target species and administration methods to numeric medicine withdrawal periods. The numeric withdrawal periods will be filtered based upon these selections when a new medicine item is being added to a consultation (if numeric withdrawal periods are in use in the consultation's department).
Improvements to the usability of the laboratory dashboard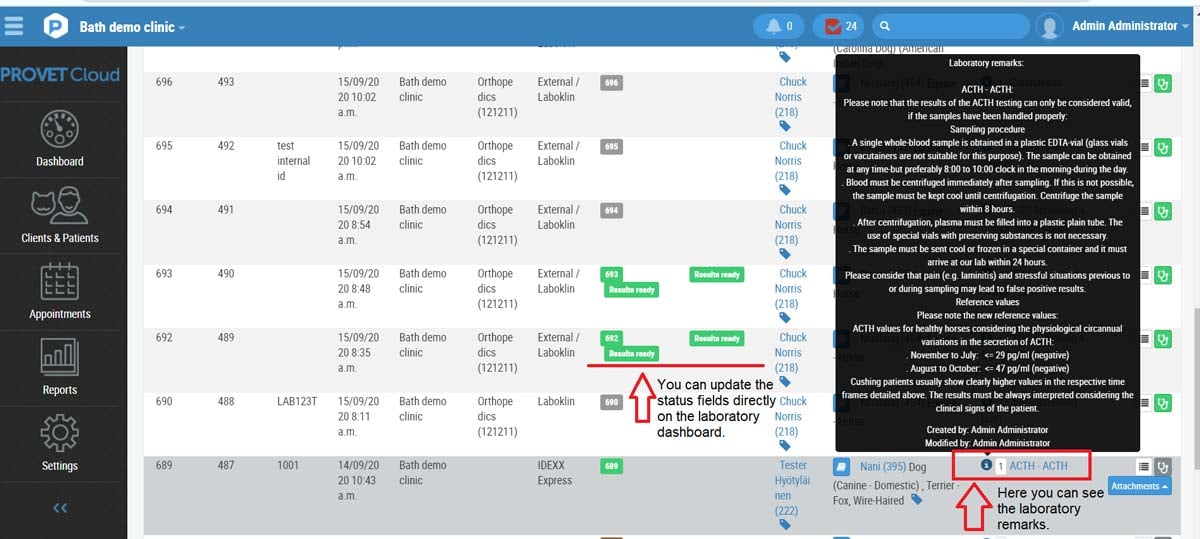 Display info tooltip for referring vets. Users will be able to view comments from the sender, any laboratory response texts, and also who created and who has last edited the referral
Users can update laboratory dashboard status fields without leaving the dashboard. Clicking a status-icon in the laboratory dashboard opens a modal where users can update the status fields. With external labs the system will ask for a confirmation when changing the status.
Resetting the laboratory dashboard filter now resets all columns including the visible columns.
Laboratory referral results now always show up in red if the result is not between reference values.
Other improvements
We have added a setting titled: "Show only public holidays on calendar" which controls whether public holidays are shown on the appointment scheduling calendar.
Ongoing settings refactoring. We are updating the names and help texts on the settings page. The goal is to create a unified settings page where all settings are enabled in the same way, e.g. all settings are enabled by checking a box and disabled by unchecking a box.
Bug fixes
Datatable coloring issues. Fixed datatable colors on inpatient consultations and ensured the current user rows are highlighted on dashboard datatables.
There were problems in adding items to Health plan templates. This has been fixed and items can be added to Health plans through treatment item buttons and the treatment quick search.
If you have any questions or would like to know more about this release, please contact us. We are happy to answer all questions.