What's New - October 2021
A new version of Provet Cloud will be released on Wednesday 6th of October 2021. We have developed new features, implemented improvements on existing features and fixed bugs.
New Features
Client & Patient page renewed design and layout
We have refreshed the Client and Patient pages in Provet Cloud. Our goal is to reduce the amount of clicking and scrolling to increase the efficiency of workflows in our platform. The revamp process has been done together with feedback and input from our users. Upcoming changes in design and layout have a specific focus on the major challenges our customers have shared with our teams.
The layout of both pages has been simplified so users can easily access the most important information without leaving a single page. The renewed designs of these pages are quick, intuitive and simple.
Additional information regarding the client and patient page changes can be found in the related help article for the new client and patient page here.
Secondary owner name
We are introducing the ability to assign a secondary owner name to a single client account. The secondary name will be shown on all printouts. A patient can be found by searching with either owner's name.
Estimate templates
We have added functionality to create estimate templates. Estimate templates could be created for common procedures or visit types. This increases the efficiency and thoroughness of preparing estimates during consultations for clients. Estimate templates are readily available from the estimate page.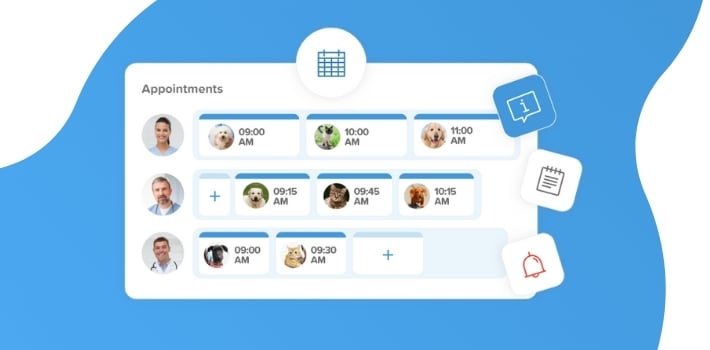 Improvements
Health plans - improvements to notifications
We have added automated email notifications about failed recurring health plan payments. These will be sent to the paying customer during every failed payment attempt. There are new department settings that allow clinic management to enable or disable the customer notifications and also to customize the email message body text. The email notifications will have the monthly health plan subscription invoice PDF as an attachment.
Calendar icon to show if a patient is hospitalised
A hospital icon will appear on the related appointment scheduling when the appointment type is set as consultation and the consultation type is assigned as inpatient.
Hide zero priced items on invoice page
We have developed a new department setting that allows hiding zero priced items from the invoice page based on item type. If the setting is enabled, all zero priced items in that item type will be hidden. If the price of an item is changed, then the item will become visible on the invoice page. The referenced settings only affect the user interface invoice page, and does not apply to the invoice print behavior.
End of day report - new tab for used prepayments
We have added a prepayments tab to the end of day report modal. There is a new print option to the end of day report to include used prepayments.