Take a look at what's new in our 1.106 release, May 2023.
A new version of Provet Cloud will be released on 24th/25th May (EU/US), Enterprise release 31st May.
Developments and Enhancements
Medicine Refills - canceling active refills
This enhancement is focussed on improving patient safety, enabling vets to easily cancel long-term medication if it is no longer effective or required. You can now cancel the refill, ensuring your patient is not taking unnecessary or unsuitable medication and your customer is not paying for prescriptions that are not required.
Watch our short video below to see this in context.
Finance - Nordhealth Pay transactions incorporated into End of Day report
A number of additions to our End of Day report make it easier to monitor and report on payments received through Nordhealth Pay, our integrated payments solution. Firstly, you'll notice that Nordhealth Pay transactions are now visible as a separate line item in the summary section, alongside other payment methods. Secondly, we've added a Nordhealth Pay tab to the End of Day report, which displays all your daily transactions. Finally, we've added a specific Nordhealth Pay option in the print dropdown list.
Take a look at the screenshot below.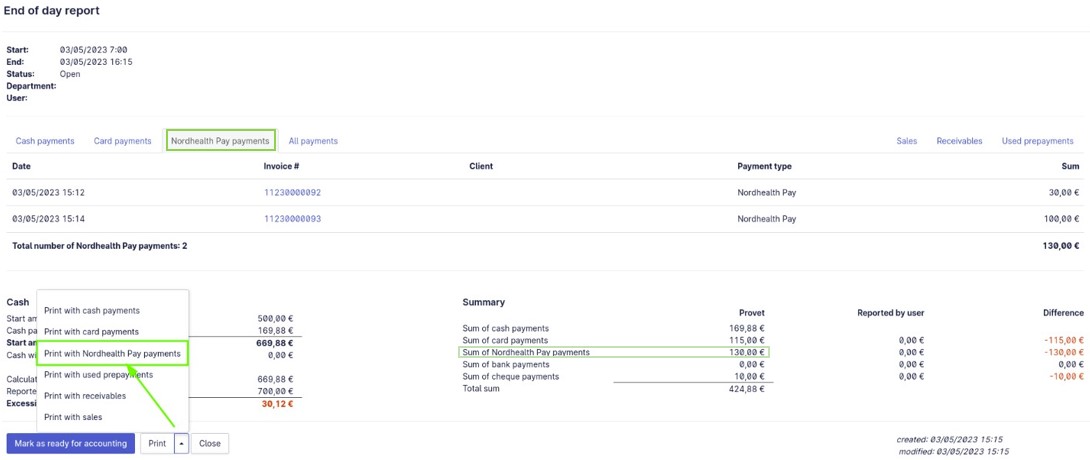 For those of you who are not currently using Nordhealth Pay, it is a secure, compliant, comprehensive payment solution fully integrated with Provet Cloud. Unlike other payment solutions, Nordhealth Pay instantly reconciles customer payments with customer records, removing the need for time-consuming manual reconciliations. Nordhealth Pay offers a host of benefits for you and your customers – find out more here.
A full list of fixes, improvements and enhancements can be found in the release notes within Provet Cloud. You can find these in 'Release Information' - click on the arrow next to your user profile in the top-right navigation and you'll find the page in the dropdown list.