What's new – September 2022 (Provet Cloud release 1.97)
A new version of Provet Cloud will be released on Thursday September 15th, 2022 (Enterprise release September 21st, 2022). This page contains a summary of the release, including new features, improvements, and fixes.
New Features and Improvements
Vaccination certificate signature
Veterinarian ID and Prescriber ID are hidden by default from the Vaccination certificates. They can be set as visible by going to:
Print settings > Vaccination certificate > Veterinarian signature information
Assigning "Responsible nurse" and "Responsible surgeon"
A new feature lets you assign a "Responsible nurse" and "Responsible surgeon" in a consultation. Activate this feature as follows:
Settings > Department > Settings >
Enable responsible nurses on consultations
Enable responsible surgeons on consultations
This setting will also allow you to use the nurse's or surgeon's name to search the treatment plans dashboard and recent consultation dashboard.
Insurance claims
To help locate specific insurance claims to match payments that have been received without proper information, we have now added a new filter to the insurance dashboard extended search. Users can filter insurance claims by compensation via multiple range options.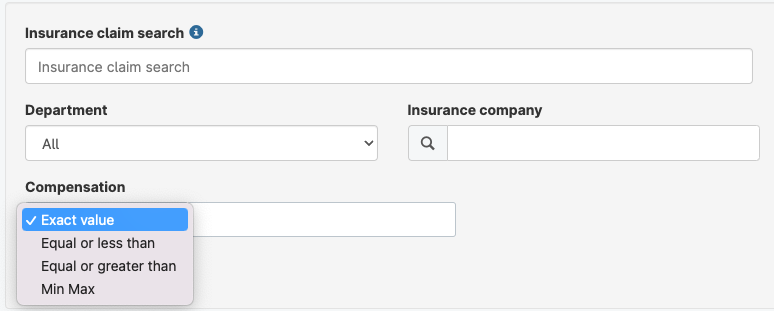 To make insurance claim emails for insurance companies even more informative, a desired prefix can be added for the insurance claim number:

Log-in page
For easier log-in, your email domain can be autofilled in log-in fields on the normal log-in page and quick log-in page. Go to User Management settings to enable and configure email domain autofill.
Nordhealth Pay
We have added a new Organization setting for the Nordhealth Pay integration to configure the pay-by-link message. Message can also be configured in Department settings, and it will override the Organization setting.