There is no getting around the fact that digital transformation has become an unstoppable process in this day and age. Almost every industry has benefited from the advancement of technology and digitization. The benefits are becoming so prevalent that if you reject the newest forms of technology, you will likely not provide the highest quality of customer service.
Because of this, people – especially those in the veterinary field – need to make an effort to adopt new technologies into their workflows and provide higher-quality customer service.

What causes adoption issues for new technology?
The impact of adopting transformation programs has been lackluster for some as it cannot withstand the enormous investments that have been made in those initiatives. In my work, I've encountered a significant number of businesses unable to reap the long-term advantages on an adequate level. Below are just some of the reasons why:


Unending hesitations and their setbacks
Veterinarians typically are not fond of change, and it is occasionally regarded as more headache and obstruction to endure change. Provet Cloud's recent Digital Adoption Survey in the UK supports this claim: respondents ranked "having to learn a new system" in the top three barriers to switching to a new practice management system. As a result, when changes get implemented via a newly proposed format, new setup, or method within a veterinary practice, it's oftentimes met with hesitation instead of excitement.


Requires new education and training
Adopting new technologies requires teams to receive adequate education and training for the new technology to be fully leveraged. However, creating time to allow teams to train on new platforms and technologies can disrupt a practice temporarily. So, it makes sense why "disruption to the practice" was given in the survey as the most common barrier to switching practice management systems.


The Covid-19 pandemic
Covid-19 has and still is speeding up a significant amount of change that may prevent any organization from fully realizing its digital transformation goals.
The pandemic also led to changes in how people work, affecting everyone and every sector, including the veterinary field. There is no assurance that the changes that Covid-19 is accelerating will lead to increased levels of digital transformation success for businesses and other types of organizations. Veterinary practices must also balance the changes forced by Covid-19 with adopting new technologies for the benefit of the practice.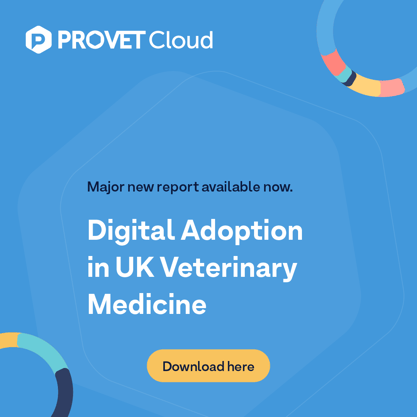 How a veterinary team can stand out with a thorough technology onboarding procedure
Completing the critical onboarding pieces effectively necessitates a considerable amount of effort and careful consideration of every detail. Still, it is an invaluable asset in the efficiency of both the prospective hire and the veterinary office.
The process of onboarding a newly hired veterinarian or veterinary staff starts as soon as the hiring team receives a confirmation of their acceptance of a position within the company. It does not conclude until the organization successfully incorporates them into all aspects of the operation.
There is a good chance that one is underestimating the significance of the onboarding process for a new employee. But, if one handles it correctly, one might be able to boost overall output while simultaneously increasing information retention within the practice. That alone should be incentive enough, and optimizing the process would make it simpler for the team to perform their tasks without the additional pressure and disruption that comes with a procedure that does not get streamlined.


Design a thorough onboarding process
An onboarding procedure's effectiveness will determine how well a newly hired veterinarian or staff will perform and how long they will remain with the company. Additionally, it will positively impact the level of participation and contentment experienced by the workforce. Creating a thorough onboarding procedure and a checklist is essential to guarantee that you will cover all the areas and not miss anything important.
New employees at a veterinary clinic may find the onboarding process to be stressful. However, one can make the experience more efficient by ensuring that all the paperwork is available and responding to their inquiries as the hiring process progresses.


Provide early access to training resources
Even though it would be wonderful to be able to select only staff with extensive experience and a high level of ability, it is important to remember that newly graduated veterinarians and veterinary technicians also bring a significant amount of information to the table. By allowing the freshly hired employee access to training courses, you can give them a head start in learning the ins and outs of the company.


Offer personalized training
Empowered employees have a more upbeat attitude and greater overall performance than disengaged ones. When one is in the process of onboarding a newly hired veterinarian or staff, this is the ideal time to concentrate on them while also communicating with the other workers already in place. In addition to this, it is essential to articulate clear expectations.
Instruction tailored to one's role
The current hire at the veterinary office should receive all the necessary information to thrive in their new function through the training geared specifically toward their work. Continuous check-ins provide an opportunity to detect any knowledge gaps that may exist, allowing the instructor, supervisor, and worker to work together to remedy any issues that get revealed. The objective is to eliminate those deficiencies so that you will guarantee success.


Mentoring
When it comes to a new employee's onboarding experience, having a mentor assigned to them can have a massive impact. The perfect mentor is an individual who is easily accessible, who is capable of responding to all inquiries compassionately, and who can then step aside and let the new hire showcase their abilities.


Conclusion
A comprehensive training and orientation program is the kindest and most helpful thing for a newly hired staff. The more effort put into these essential first stages, the higher the probability that the new employee will remain with the company and even thrive there.
In a nutshell, successfully adopting change requires a lot of hard effort. You can improve the success rate by understanding what onboarding, training, and information retention within the practice greatly contribute to the veterinary field as it faces many challenges that come with change.
Author
Jack Peploe
Jack has worked alongside the veterinary sector since he set up his first business at age 16. He has made it his mission to help veterinary practices across the UK utilise their technology so that they can function in a secure, professional, and efficient manner, leaving veterinary teams to focus on patient care. Learn more about Jack by visiting www.veterinaryit.services.