"Seeing the positive change from implementing Provet Cloud makes it all worthwhile."
James Street Veterinary Centre is an independent-run companion animal practice in Louth, England, led by veterinarian Sophie Bett (BVMS, MRCVS, PG Cert SAS). In recent years, Sophie came to realize she needed more from their practice management system. Since switching to Provet Cloud, the practice has seen significant upgrades in efficiency and financial standing.

Veterinarian Sophie Bett admits that, for years, many aspects of running a practice weren't her cup of tea.
Even when she and her husband purchased James Street Veterinary Centre in Louth, England, in 2010, she says, "I wasn't much interested in the business side of it." She far preferred the unpredictable dynamics of caring for patients. "I love the variety of my work, and that the day never works out quite the way you think it will."
But soon after they took over the 100-year-old, independent practice, Sophie realized that some parts of their business needed modernizing. "We had been using a kind of bespoke practice management system that had gotten to a stage where it was a bit old and tired."
Switching to a server-based system proved adequate to James Street Vets' needs for a few years – until the Covid pandemic magnified its functional limitations. Sophie wanted to be able to offer clients online appointment check-in ("because phones were just constantly ringing") and remote payment options. For her staff, she wanted the option to access the system from home, if needed. But the software could not provide any of these services.
"I kept wondering, 'Why can't I do these things?'" she says. "Alarm bells started ringing at that point."
"Provet Cloud is like the next generation."
The same day that a Google search led her to Provet Cloud, Sophie joined a demo of the cloud-based software.
"I brought a big, long list of all the things I wanted my software to be able to do," she recalls. "And the Provet Cloud salesperson was ticking all the boxes without me even prompting him."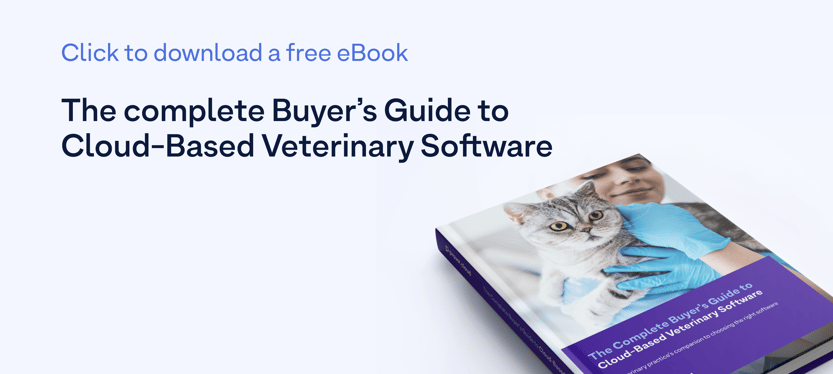 Not only did the demo show her that Provet Cloud could perform the functions that the practice sought, it was made clear that new feature enhancements are always in the works, in response to the evolving needs of customers.
Sophie was convinced: "Provet Cloud is like the next generation."
James Street Vets signed with Provet Cloud in November 2022, and after a smooth implementation, went live in February 2023.
"So many things are a lot smoother, and fewer charges get missed."
After a few months using Provet Cloud, Sophie points to several features of the software that have led to time savings, more revenue, and happier clients.
Invoice bundles + automatic fees
"Things like dispensing fees, injection fees, lab fees – all those go into the invoice automatically. Fewer things are missed, which is a massive benefit."


X-ray image and lab results transfer
"It's quick and automatically enters the patient record. Lots of time is saved, and the clients love that I can show them results right away."


"Clients love the new appointment reminders! There's so much more information on them, and they offer a direct link to our calendar. And I can set up these reminders on a lunch hour or at night at home, rather than spending all that time on the phone."


"Nordhealth Pay is amazing. The amount of admin time that has been saved is incredible. And payment links let clients easily pay from home. The number of payments we've received that, honestly, we didn't expect to receive is quite amazing."
Sophie estimates that reducing missed charges has resulted in thousands of pounds of saved revenue every week, and capturing more client payments has put the practice in an overall stronger financial position.
"When I see positive change like that from something I've implemented, it makes it all really worthwhile," she says.
"I really thrive off changing to Provet Cloud and seeing the difference."
In addition to all the day-to-day benefits of the software, Sophie is excited by the opportunity to reinvest in the practice and her staff. "Having that spare bit of money lets me put it back into new equipment that my staff want or need, or even to do nice things for them like staff events."
Sophie sees a change in herself as well. Over the past year, her feelings about running a practice have evolved – and it has a lot to do with finding the right practice management system.
"Now I'm much more interested in the business side of things," she says, "and I absolutely love and thrive off changing to Provet Cloud and seeing the difference."