A new version of Provet Cloud will be released on Wednesday 6th of April 2022. We have developed new features, implemented improvements on existing features and fixed bugs.

New Features
Right-click Menu for Appointments
Appointments on the calendar can now be right-clicked to access a list of quick actions, depending on the status of the appointment. For example, you can quickly navigate to the patient page or delete the appointment.
CUBEX Integration
CUBEX

is a US market medication and supply management service and device provider. With the integration, CUBEX devices can be used so that treatment item use information is synchronized with Provet Cloud.
General Ledger
A new general ledger function that displays a list of financial transactions based on the accounting journal. Please note that data is only available from the start of this year (2022). To find the general ledger, navigate to:

Reports > Financial > General Ledger.
Account Numbers for Prepayments
A new department (location) setting was added for assigning an account number for prepayments. When a prepayment is created, it will get an account number for the accounting journal record. To find this information, navigate to:

Settings > General > Department > Account number for prepayments.
Master Price Change Report
A new financial report for displaying all price changes made to inventory items during a selected time period. To turn this report on, and find this information, navigate to:

Settings > General > Department > Reporting settings > Enable item price change report.

Reports > Financial > Item price change report.

Improvements
Start of Inventory Management Redesigns
We have started the process of reworking our inventory management functions and workflows. As one of the first steps, item controls on the stock page have a new workflow and the item entry modals have also been redesigned.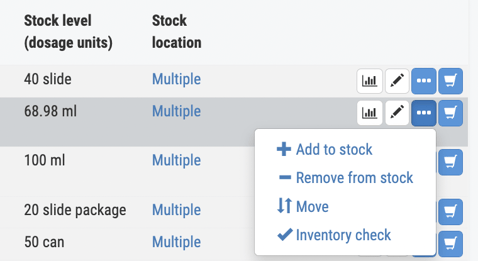 Updates to Online Booking Client Matching Rules
When a client books online, the system attempts to match them with existing clients in the Provet Cloud database. The rules were now optimized to provide more consistent and accurate matches. The matching now also uses second owner information, if that is present.
Price Change Permissions
New, more granular permission group options were added for controlling how users can edit price changes on invoices. Restrictions can be added for procedure item rows or other items types. To find these permissions, navigate to:

Settings > General > Users > Permission Groups > Can change prices on invoices.

Settings > General > Users > Permission Groups > Can change prices on invoices on procedures.
Credit and Invoice Again Permission
A new permission group option was added for controlling who can use the "credit and invoice again" option when crediting invoices.

Settings > General > Users > Permission Groups > Can use "Credit and invoice again" in credit note modal.
CPR Status Section For the Patient History Page
We have added A new field for the patient, CPR (Cardiopulmonary resuscitation/First aid). There is 4 options — means no one has added any. Then there is NO = DNR (do-not-resuscitate) and then YES - CPR and YES Advanced CPR. It's up to every clinic to in your internal documentation set the definitions what you mean by CPR and advanced CPR. The CPR status of the patients can be saved together with patient's information when creating a patient in any of the forms including admit page, estimate page, client page, etc. It can also be edited in any of the patient's edit form and separately in client-patient page, triage page, triage edit page and consultation page. The latest CPR status is displayed in the client-patient's header page and the patient's block in consultation page. The CPR status can also be set/modified when admitting a patient as an inpatient.





The CPR status is shown with a coloured icon representing the status and a hovering that included the user who has modified the status and the time that the status was modified. The departments with the country "US" include a label in addition to the icon. The CPR status is also available in the history both with updated within and in between consultation. Many clinics today uses tags for this but for us to provide a CPR status in a standard way that enable great visualisation now and in the future.
Time of Planned Treatment Items
When creating or editing treatment plans, timing can now be edited more conveniently with a new "Adjust all timings" checkbox. With that checked, editing the first timing also adjust the other repetitions.
Written Prescription Dialog on Consultations
The dialog window that is used for adding medicines to consultations was redesigned to allow for more convenient prescription workflows.
New Columns for the Medicine Usage Report
The expiration date and client address columns were added to the Medicine Usage report.
New Payment Filtering Option for the Invoices Report
An option to include payments from a selected time frame was added to the Invoices report.
Option for Transferring Credit Note Sums to Prepayments
A new department setting was added to control whether credit note sums can be transferred to prepayments. To find this, please navigate to:

Settings > General > Department > Enable credit note transfer to prepayments.
Correction of Invoice Database Filters
The invoice database payment status filter design was clarified. This can be found at:

Clients & Patients > Invoices.
Read-only XLS Export Option for the Debtors Report
A new read-only Excel file export option was added to the Debtors and creditors report. Find the report at:

Reports > Financial > Debtors and creditors > Export / Print > Excel with invoice information (read-only).
Invoice Number Data for the Item Sales Report Export
When taking the Item sales report with the "Client and patient" grouping, the result now has the invoice number as one of the columns.
Previous Release Updates & Improvements
As a reminder, you can find all information about our February Release at our What's New - February 2022 webpage.