A new version of Provet Cloud will be released on Wednesday 4th of May 2022. We have developed new features, implemented improvements on existing features and fixed bugs.
New Features
Command menu and keyboard shortcuts
We have added a new functionality for more efficient and improved usability in Provet Cloud. The Command menu (Ctrl+K / Cmd+K) allows quick navigation and works as a guide for new keyboard shortcuts—saving you a click and time!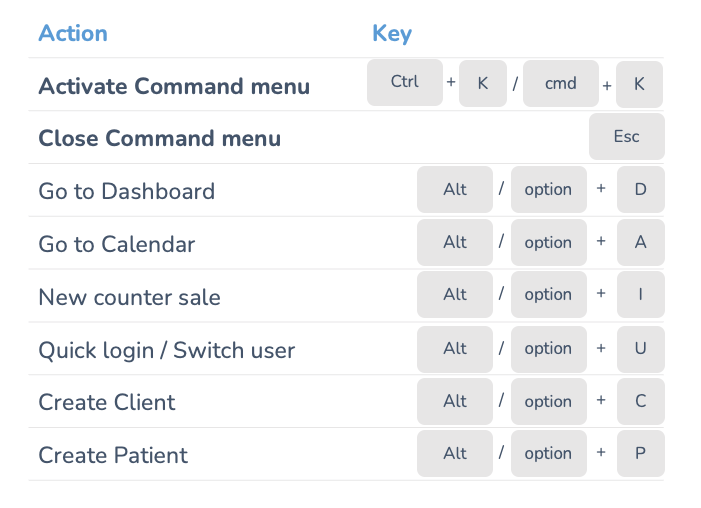 The Command Menu is not activated when a modal window is open. However, save (Alt+S) and exit (ESC) shortcuts can be triggered if a modal window is open and a save button exists.
We will continue adding more shortcuts and logic. Please contact us if there is a certain shortcut missing that would help You in your daily work.
Remember login email address
"Remember login" is disabled by default from Provet Cloud to prevent unauthenticated use. Your organization can enable it from the new setting available:
Settings > Users > Password
Hide client details from discharge notes
Allow a person other than the client (e.g. veterinarian or technician) to receive patient discharge information without client details. Hide the client details when printing or emailing discharge instructions.
Student/Supervisor function in report section for imaging referral
We have added the option to require approval for student diagnostic imaging referral reports from referral's supervising user. Approval status is visible in My Workspace under a new widget "Referral Report - Approval Status."
Be aware that for this feature you have to enable a responsible radiologist and assign that to the referral. This person will be the supervisor that can approve the report for the student assigned to the referral.
General prescription workflow
A new organization setting was added to determine general prescription workflow. User can start using new consultation item-based general prescription by enabling the following setting:
Settings > General > Organization > Organization settings > Use consultation item based general prescriptions
Improvements
General Ledger
A new filter has been added to General Ledger, allowing report filtering based on cost center and project code.
Diagnostic imaging referrals
A new ward selection option has been added for planned diagnostic imaging referrals to help with filtering and selecting records. Also, if you use shared wards for imaging workflow, all modalities for shared wards now show up on the imaging dashboard when you select a shared ward in the filters.
Invoice search
A new search field for reference number (and FI-number for DK) on Invoice search page helps identify invoice or a client.
Cancel button for estimate inline editing
When an item row is opened for editing, a new "cancel" button is added next to the "save" button. Selecting "cancel" will revert to read-only mode without saving updated values.
Editing consultation item template
Add forgotten items or last-minute medication by reopening and editing bundle items that have been added through treatment estimates.