To ensure the highest quality of services to both your animal patients and their owners, a veterinary practice needs the best available veterinary software to manage the clinic, process patients data and enable efficient communication with the customers. Remember, cloud-based IT solutions are becoming a trend in various industries all over the world. You, too, can leverage them to provide better care for your patients.

Do you wonder what kind of veterinary software would be best suited for your clinic? You can choose from a variety of server-based and cloud-based IT solutions for veterinary practice. But which one is the best? Using cloud-based software has several benefits. Read more to learn why you should invest in cloud solutions.


Cloud for veterinary software – is this a new trend?
Cloud veterinary software, like Provet Cloud, is practice management tool that makes helping animals easier by improving professionals' capability to organize their everyday work. There is no need for installation, as you can simply access cloud systems via the Internet, and it may be used on any device (laptop, smartphone, tablet etc.).
Cloud-based solutions have been around for quite some time now in various industries. In the veterinary medicine sector, some businesses decided to jump in and take advantage of the capabilities a cloud offers, but some preferred the old way of doing things and kept working on traditional systems. The most significant benefit of cloud-based solutions for business is certainly accessibility – with your business data and tools in the cloud, you can easily work from any place and at any time. You will be able to:
book an appointment for a customer even while being away from the clinic (on the conference, during a home visit or outside the working hours),

analyze patients data and test results without actually being at your desk – the opportunity to find a diagnosis remotely without meeting with the patient and its owner has multiple benefits. It allows you, for example, to avoid meeting face-to face in the times of a pandemic, but also enables you to offer assistance to your colleague when you are not in the clinic,

creating an invoice in the consultation room – it is much faster, when veterinarians deal with diagnosing and treating, and the receptionist focuses on updating the basic information and receiving payments. With cloud-based solutions you can create an invoice just after finishing the appointment without leaving the examination room and the receptionist will see it at once.
Those are just a few ideas about how cloud-based solutions could improve efficiency in a veterinary clinic. There are many benefits that you should consider.


How can cloud-based veterinary software improve your clinic operation?
For veterinarians, there are multiple advantages of working in the cloud. Some benefits will be more important for large clinics rather than for small ones, but in general, cloud-based veterinary software can positively affect day to day operation of a veterinary clinic of any size.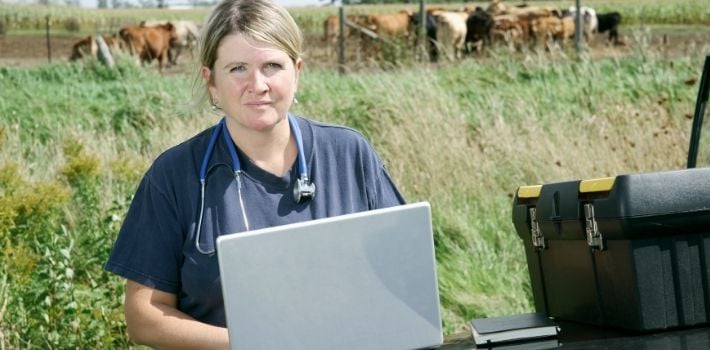 Access to data anywhere and anytime
You do not need to be in the clinic to actually work. Cloud-based veterinary software supports those practices which would like to offer their patients remote appointments in the form of a videoconference. It may also prove very useful if one professional needs immediate consultation with another expert who is not currently physically present in the clinic.
Efficient collaboration between veterinary staff and third parties
Veterinary clinics are not only about the clinic staff and patients. There is quite a big business ecosystem behind all this – clinic employees, suppliers, laboratories, specialists – all of them are working together to provide the best care for the pets. They need to communicate fast and without any unnecessary delays. Cloud-based software enables them to contact, share data and send test results in a short time.
Scalability ensures smooth growth of your business
Cloud solutions are easy to scale up or down. Usually, each cloud-based solution for veterinary practice has a few pricing options, so you could choose the software best suited to your needs. Small companies can choose less expensive options, while big ones often require more flexibility and tools for efficient clinic management. The important thing is: you can change your software plan whenever you wish.
Real-time back-ups
Data is backed up in the cloud-based software regularly in short time intervals, so you do not need to worry about losing your data in case of a disaster or technical problems.
To sum up
All these benefits translate into providing the highest quality services to animal patients and their owners, but there are multiple functionalities of cloud veterinary software that can be very useful when running a business. See for yourself, request our software demo version and test it.