What is veterinary telehealth or telemedicine? What should a clinic evaluate when considering veterinary telemedicine services and providing veterinary care remotely? Continue reading to learn more about veterinary telehealth and telemedicine features of Provet Cloud.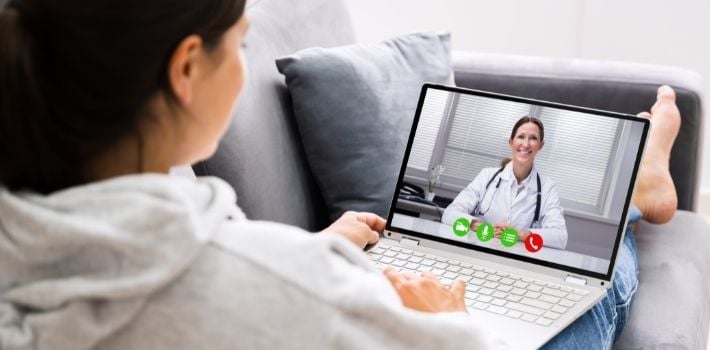 Provet Cloud has a telemedicine add-on feature known as Viivi Health. It allows our users to conduct consultations through a virtual video call remotely with their clients and patients. The virtual platform supports chat and screen share functionalities additionally. The Viivi Health telemedicine service is a secure and reliable tool for providing veterinary telemedicine services.
What is telemedicine and telehealth?
Telemedicine refers to caring for patients remotely when the veterinarian and patient are not in the same location, typically utilizing modern technology. Most commonly a video call application is used, which allows the veterinarian to visualize the patient while communicating with the pet owner through a call or chat.
Veterinary telehealth is the umbrella term that entails all uses of technology to deliver health information, education or care remotely to pets or pet owners. Telemedicine is a subcategory for telehealth. Other categories of veterinary telehealth are for example teleconsulting and telemonitoring.
Teleconsultations are remote consultations that take place between a vet and a veterinary specialist using technology to deliver care while being in different places. This could include interpreting medical images or simply sharing ideas. It allows veterinary practices to provide a wider range of services without having all experts in the same location.
There are various tools available on today's diverse technology market that can be used to provide telemedicine services, however all are not created equal. When evaluating telemedicine services, it is especially important to review the security parameters of any application you are considering incorporating in your practice which would provide telemedicine services.
Veterinary telemedicine services
There are many factors to evaluate when considering incorporating and offering telemedicine veterinary services. First, it is critical that you have selected an application platform that has premium security parameters and flawlessly integrates with your practice management system. Secondly, while there are many tools that provide a platform to conduct video calls, an application specifically designed for telemedicine purposes gives your customers a tailored professional and personable experience.
Naturally, telemedicine services can only supplement standard veterinary practices and cannot replace or eliminate the need for physical exams and established veterinarian-client-patient relationships. A veterinarian-client-patient relationship (VCPR) must always exist when providing veterinary services.

Here are some elements of a VCPR:
The veterinarian is familiar with the patient and their medical history deeply enough to be able to provide sound diagnoses and treat any medical conditions
The pet owner has consented to evaluation and treatment being performed on the patient by the veterinarian and has also agreed to follow the veterinarian's instructions
The veterinarian needs to keep a written record of all medical care and advise the owner of different possible treatment options
VCPR is required prior to being able to offer veterinary telemedicine services to a client and patient. To establish VCPR, the patient must initially be examined in-person by the veterinarian. Telemedicine is a very valuable tool however to initially evaluate and triage if the pet does require a veterinary examination and further medical attention in-person.
Telehealth can be a good way to provide veterinary medicine services to pet owners in a more flexible manner. It can be a great help for people who have a long distance to a veterinarian. The veterinarian can evaluate the gravity of the situation and make a recommendation before the pet owner makes the decision on whether he or she wants to drive up to the clinic.
Technology can also enable smaller veterinary practices to consult other veterinarians and veterinary specialists more easily. It can be a great help for a new veterinarian, if there is a simple way to contact another veterinarian to discuss a situation or a diagnosis. Smaller practices may not have the resources to hire specialists of different fields, so teleconsultations may give them a more cost efficient way to offer specialized services.

Viivi Health Telemedicine
Provet Cloud has a telemedicine feature known as Viivi Health, which can be added on to any base subscription plan. It allows veterinary professionals to conduct consultations through a virtual video call. The Viivi application also supports chat functionality. Both the veterinarian and the client can share their screens which can provide an easy platform to review discharge care instructions, review any previous diagnostics, and discuss treatment options.
Clinic staff can easily schedule a telemedicine appointment and share necessary information with the client through either email and/or SMS communications. Viivi Health is supported both on mobile and computer devices. No additional application downloads are needed for the client to join the virtual appointment. The client simply follows the link provided in the appointment confirmation communications that has previously been sent to them. Once both parties have joined the virtual meeting room, the virtual call will initiate. Since the Viivi Health platform is supported on both mobile and computer devices, no additional equipment is necessary for either the client or veterinary professional.

Up to 4 participants can join a single Viivi Health consult which means additional owners or veterinary professionals can easily consult and be included in a single scheduling. This is an especially useful feature if additional veterinary specialists or patient care decision makers need to be involved to best evaluate treatment options and care.
All in all, the Viivi Health telemedicine service is a very secure and reliable tool for providing veterinary telemedicine services to your clients. It was developed by the Provet Cloud team and runs on servers managed by our company. When the Viivi application is used, any transferred data is TLS encrypted. Additionally, no customer information is saved in the service ensuring privacy and ultimate security. Both the video call and chat are not recorded or saved in any format. Any information stored in the service is not passed on to any third parties.
If you are interested in incorporating telemedicine Viivi Health services into your practice services, please contact your local Provet Cloud sales team today!