An electronic signature, or e-signature, is a legally binding digitized form of a handwritten signature, which acts as consent or approval on documents or forms. Electronic and digital signatures are not the same. Digital signatures are an advanced form of electronic signatures.
Provet Cloud supports the ability to create and send digital copies of forms and documents to clients electronically for acceptance. Clients can provide an e-signature through any electronic device such as mobile device, tablet, or computer from the convenience of the clinic or their home. Our team is continually improving our electronic signature capabilities to maintain a trusted and seamless experience for our users and their clients.
What is an e-signature?
An e-signature or electronic signature is a legal method to collect consent or approval on electronic documents or forms. E-signatures are increasingly popular due to not only their electronic convenience of both transmitting and receiving documents, but also because they support an ecofriendly workflow which reduces a clinic's and client's paper usage.
The main difference between digital signatures and electronic signatures is largely in the method of identifying businesses and signers. An electronic signature is a digitized version of your handwritten signature, while a digital signature is a type of electronic signature that uses certificate-based IDs to verify a signature's validity. Digital signatures embed what's called a "Personal Key Infrastructure" (PKI) into the signing process as a way to identify both the party requesting a signature and the party providing one.
Both electronic signatures and digital signatures are valid methods of capturing a legal signature. However, the average consumer does not usually have a digital certificate, so they cannot provide a digital signature. Therefore, electronic signatures are a convenient and accessible way for clients to sign documents. The only equipment needed to electronically sign any form is a mobile device, tablet, or computer.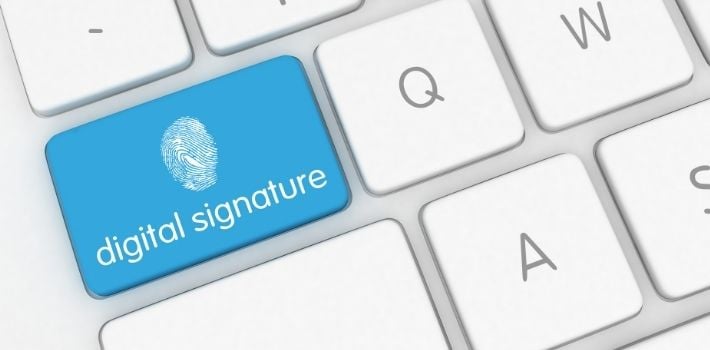 Benefits of e-signature
Electronic signatures are accepted as legally valid and enforceable in most countries. When a customer signs a form electronically, there is no confusion on whether they consented or provided approval. This means any possible future disputes have a solid basis demonstrating consent, minimizing the area for debate.
Signing documents electronically is proven fast and efficient. Documents can be shared with clients electronically before a scheduled visit, where they have the opportunity and convenience to complete any necessary review and signatures prior to their arrival. This improves the efficiency of appointments and the clinic's workflows, as well as offers your clients a seamless process.
Increasingly workflows and processes are moving towards the digital space, not only for the convenience, but also as a method to reduce one's overall environmental footprint. When documents are signed online, there is less need for paper copy printing. Online signing is a great way to move towards paperless workflows.
Additionally, electronic signature workflows make it easy to keep all records in one secure place. Electronically signed documents are quickly saved directly into Provet Cloud. Not to mention, all data is also protected from events like a fire, water damage or theft.
E-signature in Provet Cloud
Electronic signature functionalities are an add-on feature of Provet Cloud. A client signature can be requested via email or an SMS message.
If a shared tablet device is available at your clinic, it can be utilized securely to allow clients to sign documents during visits. A PIN-code login can be enabled which adds an extra security layer to prevent any clients from viewing other documents not intended for them.
Recent improvements to the Provet Cloud eSignature
We have recently improved the eSignature features of Provet Cloud. The look and feel of the signing service has been refreshed. eSignature can now be used to sign documents of all sizes. The signature page has also been redesigned to display the signature and accompanying details in a cleaner fashion.
Would you like to learn more? Read more about the eSignature features of Provet Cloud.