Many factors can lead you to the conclusion that it's time to change your practice management software. As the veterinary profession evolves, you may find that your current system hasn't kept pace with the changes. Outdated, expensive, and lacking flexibility, that system may be at the root of so much inefficiency, frustration, and performance shortfalls.
You know you can't continue using a system that doesn't grow and improve along with you—so you start searching for a solution that allows you to complete tasks more quickly and efficiently, is compatible with other technologies and equipment you use, reduces errors, isn't so expensive or hard to maintain…the list goes on.
You want a software solution that positions you for the future of veterinary medicine – one that does more than simply digitize your manual processes, but measurably improves practice workflows and eases the strain on your staff. You want software that makes life easier.
The good news is, you have many veterinary practice management solutions to choose from. The problem is, you have many practice management solutions to choose from.
So, how to begin your search? What qualities in a new veterinary software system should you look for? And what questions should you be asking?
Here are some of the big questions we hear most frequently, along with our best answers to help you make this important decision.
Basic questions to ask of a veterinary practice management solution:
1 - Should I choose on-premise or cloud-based veterinary software?
2- What tasks can I automate with veterinary software?
3 - What integrations are available for veterinary software?
4 - Can I configure the veterinary software to my practice's needs?
5 - What implementation and support does the veterinary software offer?



1. Should I choose on-premise
or cloud-based veterinary software?
All practice management systems fall into one of two categories: on-premise/server-based or internet cloud-based. Each one has its advantages and disadvantages to weigh as you consider the capabilities your practice needs to thrive.
An on-premise (or server-based) practice management system typically requires a software download that lives locally on your practice's computer network. Additionally, all data that the software collects is stored on servers that you own and keep on site. For some, this level of control over your system's software and hardware is ideal, but this preference presents a unique set of considerations.
For one, owning and maintaining servers is expensive. A new server can run as high as $30,000, and typically needs to be replaced every 3-5 years. You'll also need to pay for the support of IT professionals for necessary maintenance and repairs, as well as to intervene in the event of data loss.
Speaking of data, an on-premise practice management system requires daily data backup, often performed manually. And monthly or annual support costs from data backup providers typically run into the thousands of dollars a year.
Finally, on-premise software needs to be regularly updated, which can take hours – and if you're a 24-hour clinic, it effectively grinds your operation to a halt.
A cloud-based practice management system is, in many ways, an antidote to on-premise. Cloud-based software means it lives and operates within your web browser. No software download is required, nor do you need servers to store your data. All client/patient information is automatically backed up and secured on highly encrypted internet servers.
A cloud-based system eliminates the necessity (and expense) of additional IT support, and software updates typically occur automatically, preventing any operational downtime. Without the pricey overhead of servers, slow-moving software updates, and daily data backups, you gain a system that allows you to manage your practice more nimbly.
Cloud-based veterinary software is also accessible on mobile devices—ideal for the mobile clinic and those in the field—and is designed to integrate easily with other third-party tools and equipment you use every day, including diagnostics, client communications, payments, and pet-parent apps.
Finally, as a subscription-based service, cloud-based practice management software is often far more cost-effective than an on-premise solution.
Whether on-premise or cloud-based, choose a practice management system that offers you and your staff the most flexibility (i.e. do you need remote/mobile access?), stays up-to-date easily and often, and integrates well with other essential tools you use every day. This, in the end, will save you time, money, and frustration.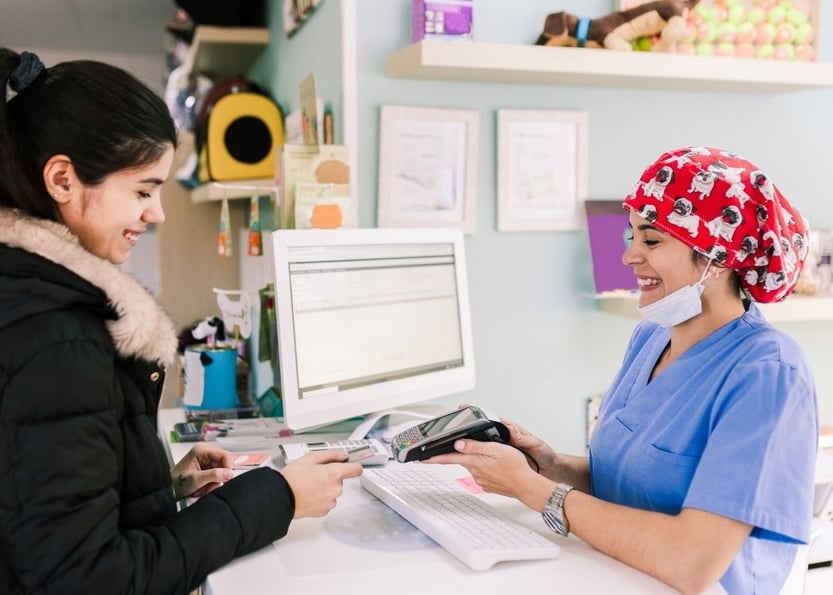 2. What tasks can I automate with veterinary software?
Automation of routine tasks and functions is the key to time-savings. The more that a practice management system enables you to "set and forget" or accomplish in as few steps (or clicks) as possible, the more time and attention you can devote to patients. And because automations require less manual data entry, you'll see a reduction in errors and other inconsistencies.
In your search for veterinary software, look for built-in automation tools that help you streamline everything from appointment reminders and treatment charting to invoicing and payment. Some of these automations include:
Automated reminders - Schedule emails or SMS reminders to clients to book new appointments, remind them of upcoming visits, or let them know it's time for their pet's medication to be refilled.


Templates for fast charting - Draw from pre-made templates to easily enter client notes, treatment items, discharge instructions, and common treatment reminders.


Lab test integration - Automatically import lab results – whether in-clinic or external – and attach to the patient's consultation page.


Invoicing and payments - For each treatment item, capture charges automatically, generate a practice-branded invoice, and send the invoice amount directly to your payment terminal.


Inventory management - Set inventory thresholds, track on-hand stock, and automatically generate reorders when you fall below minimum levels.


As you explore automation capabilities, gather information from your staff about tasks that are the most time-consuming, inefficient, or disruptive to the client experience. For example, knowing how many minutes a day are spent manually updating inventory count will help you quantify the benefits of an automation tool.



3. What integrations are available for veterinary software?
Switching practice management systems shouldn't mean that you have to start from scratch with all of your tools and equipment. Ideally, the software you end up choosing allows you to integrate most, if not all, of the other apps, platforms, and systems that your practice already uses – and prefers to keep using.
Available integrations with your next practice management solution should include:
Diagnostics / lab equipment
Client communications
Inventory suppliers
Payments
Insurance providers
Pet-parent apps

You may not be able to migrate all of your preferred tools to a new veterinary software. In that event, find out if the software has an open API, which would offer access to third-party tool developers to create the integrations you need to optimize your workflow efficiency. Barring that, ask about comparable alternatives to your preferred tools and whether those integrations will cost more.



4.Can I configure the veterinary software to my practice's needs?
Be wary of a practice management system touting itself as a "one size fits all" solution. In much the same way treatment plans are uniquely designed for each patient, you need vet software that can be tailored to fit the unique setup of your practice.
But even if your solution is responsive to your established needs, consider how its core functionality can guide you toward quicker ways of accomplishing everyday tasks. In other words, does the solution meet you where you are, and can it help you get to where you're going more efficiently?
Automations and integrations, as described above, are important features to look for, but you may not require all of them – at least not right away. Investigate how modular your next practice management system is, and find out if it allows you to mute certain functions (even if temporarily) that are unnecessary to your unique workflows and would otherwise clutter the user experience.
Don't worry if you haven't already mapped out how your ideal veterinary software should be configured – it's a process of discovery! And when you've settled on a solution, that process will be an important part of your implementation experience. Speaking of which…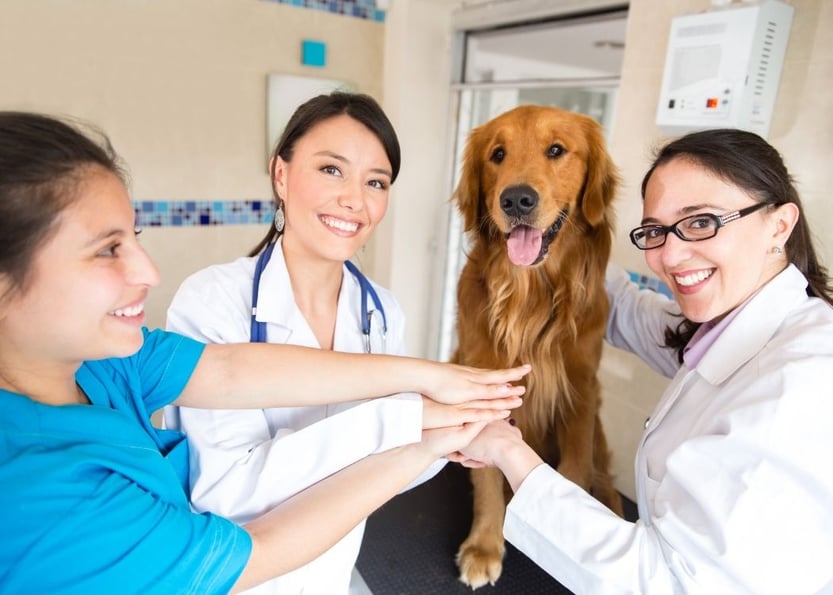 5. What implementation and support
does the veterinary software offer?
Introducing a new practice management system to your staff requires careful planning, thorough training, and an understanding that it will take time for everyone to become fully acclimated. Even the most user-friendly cloud-based veterinary software demands a certain amount of "rewiring" of a practice's collective brain.
More than the software itself, it's the company (and their ethos) behind it. Expect a practice management solution to include people (not just chatbots) who are available to you from the start of the buying process, through implementation and training, and as you continue to optimize your day-to-day use of the software.
The level of individualized attention and guidance that the solution is able to provide is a key differentiating factor. Are they willing to teach you not just how their tools work but also why? And will they be an empathetic partner in the learning process, from identifying and understanding your stressors to showing how the software might help you resolve those challenges?
Key implementation and training questions to ask:
Do I have the option of doing implementation remotely or on-site?
Is implementation included in the cost of the software, or for an additional charge?
Does your implementation team include people who have worked in a practice setting?
How long (days or weeks) does a typical implementation take?
How will my clinic data be securely migrated to our new system?
On the day of our new system's launch, will there be any interruption to our operations?
Are there self-help tools and/or additional training for new staff that I hire?
Key customer support questions to ask:
Is localized customer support available free of charge?
Will I have access to a dedicated account manager?
Are you receptive to feedback on the software and suggestions for feature enhancements?
How long do customer support issues generally take to resolve?
Bottom line:
Does your veterinary practice management software
make your life easier?
One secret to a good practice management system is that it doesn't get in the way of the work you love doing: caring for your patients and engaging with clients.
In all likelihood, you won't have perfected the rhythms of your new software on the first day. But with patience, teamwork, and the necessary support, your new veterinary software should work in parallel with the flow of your practice – all the while it saves you time, automates routine tasks, enhances the client experience, and delivers deeper insights about the health of your business.
If your current system is frustratingly slow, complicated, limited in functionality and support – and you're hearing it from staff and clients – then it might be time to switch.