"The most important aspect of Provet Cloud is its open API."
MoVET in Denver, Colorado, provides mobile and in-clinic services focused on preventative care. Dr. Lexi Abramson opened the practice with intentions of redefining both the client experience and veterinary team dynamics. With Provet Cloud's agile open API, she built a business that delivers convenience and empowers her staff.
In her 11 years in the veterinary field, Lexi Abramson, DVM, (aka Dr. A) has worked in virtually every setting – from independent equine practice to a corporate-owned clinic – and knows as well as anyone both how enjoyable and how challenging the work can be.
As she watched too many colleagues leave the industry – due to professional unfulfillment, compassion fatigue, or unreasonably long hours – Dr. A began to believe there was a better way to run a practice. "I was in a position to see how the industry was changing, and I wanted to flex our muscles and figure out how to make it so it would be fun to go to work."
She wanted to create a place that not only "helps [her] staff grow and remember what they love about this work" but gives clients easier access to services and more one-on-one attention with their pets.
Starting the practice she envisioned, Dr. A knew, couldn't happen with a simple flip of the switch. "I could've been open in less than a month if I went the cookie-cutter route," she says of the one-size-fits-all software solutions that predominate the veterinary market. "But at every turn where it could've been easy, we took the route that was harder."
"We wanted to purposefully blaze a path forward from the trouble points in the veterinary industry."
MoVET opened in 2018 – first as a mobile-only clinic, now as a hybrid practice that includes an office in southeastern Denver, CO. But Dr. A says MoVET is not the typical general practice.
To be able to grow her business organically and to help her staff flourish in their careers, she implemented a series of very intentional boundaries:
Focus on preventative care.

"First, we narrowed the scope of how we practice," says Dr. A. "We're very much concentrated on preventative care and vaccines. Instead of trying to keep specialists in house, we focused on the black-bag vet who comes to your house."Patients always receive "a very good physical exam," she says, and more one-on-one attention – "something they're looking for and willing to pay for." And this approach allows Dr. A to deploy her nurses more effectively, to give them more care-giving agency – "which is what they went to school for."




Require clients to download custom-built pet parent app.

Dr. A's staff aren't tied up on the phone lines because there are virtually no phone calls into the practice. "The app allows us to send push notifications about appointments," she says, "and it means we can have a relationship with clients that is digital yet very open to communication."




The day ends at 5 o'clock.

And Dr. A is adamant about it. "Veterinary staff are used to working themselves to the bone, going above and beyond," she says, "but that's often a recipe for burnout." MoVET does not accept walk-ins after 4:40 p.m. Staff are expected to leave soon after the practice closes for the day. "One of my vet techs told me, 'MoVET is like veterinary rehab.'"


Preserving her staff's work-life balance and providing a progressive, tech-forward client experience required Dr. A to find a software system that could be configured to match her vision.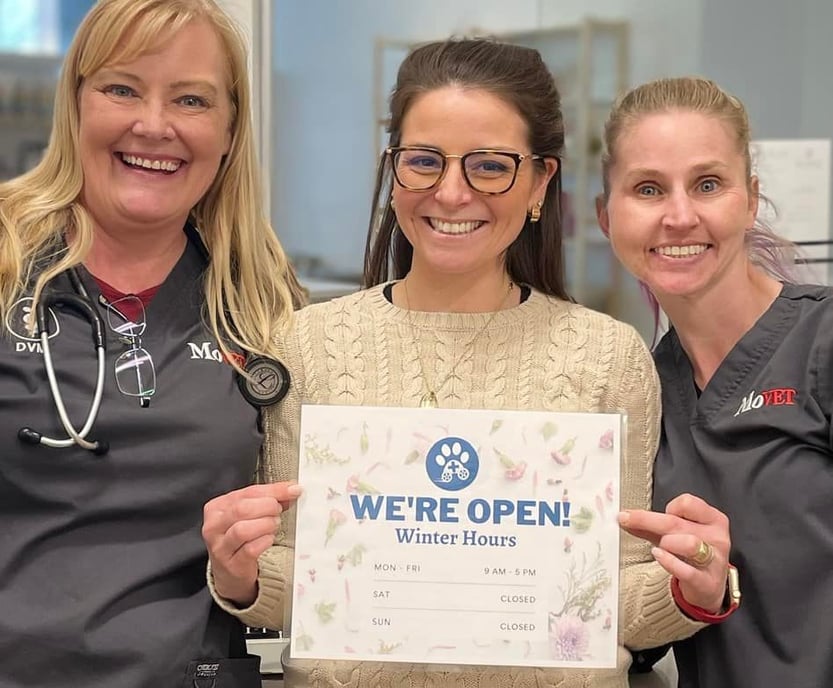 "We needed a software that we could totally customize and be our own boss with."
Dr. A was drawn to Provet Cloud for several reasons, including its modern and intuitive dashboard and the fact that it comes from an independently owned company. "The most important aspect of Provet Cloud is its open API. And because Nordhealth is a software-only company, they won't restrict my access to the partners or solutions I want to run my business my way."
The open API means any developer can easily access Provet Cloud's technology infrastructure to build integrations that communicate seamlessly with the software. Dr. A hired the services of a developer to execute on her vision. "Provet Cloud was very open and enthusiastic about working with us to do these really cool skins on top of the program."
With the software's open API, MoVET created:
A custom-built pet parent app with a connected clinic portal that communicates directly with patient records in Provet Cloud. Clients communicate with the practice entirely through the app or via MoVET's website.


An integration with Stripe Payments, MoVET's preferred payment processing solution. Invoices are sent via email or text link, giving clients the ability to pay through the app.


A MoVET-branded online scheduling platform that connects with Provet Cloud. And when clients arrive for an appointment, they register by scanning a QR code on an iPad in the lobby. Paperwork of any kind has been eliminated.
"What we found in Provet Cloud is a solution and a partner that would be able to grow with us," say Dr. A.
"We're you neighborhood vet and your next-door neighbor."
Whether making house calls to perform routine exams or welcoming patients into their boutique clinic in Denver (where 1980s music is usually playing), MoVET works hard to maintain a balance between delighted clients and an empowered veterinary team.
As for Dr. A's plans for growth – she and her software developer are working on new ways to stack custom-built features on top of Provet Cloud. And someday she hopes to open additional satellite clinics around the Denver area, leveraging contracted veterinarians and nurses to expand the footprint of their mobile services.
One of her biggest joys in creating MoVET is seeing "compassion reignited" in her staff. "When you see that kind of comeback in a colleague – who gets into the rhythm of how we work, who has the independence to make decisions for her clients – it becomes contagious, and the whole team starts to get the same feeling."